Moodle is a popular Learning Management System (LMS) used by many educators and institutions worldwide. If you're planning to sell Moodle courses, it's important to design a platform that's user-friendly and accessible to your target audience. In this blog post, we'll discuss how to design a Moodle platform for selling Moodle courses with a WordPress platform.
First, you need to choose a suitable WordPress theme like Neve, that integrates well with Moodle. Look for a theme that's responsive, fast-loading, and easy to navigate. Of course there are some other platforms for selling courses like LearnDash, LifterLMS, and WP Courseware.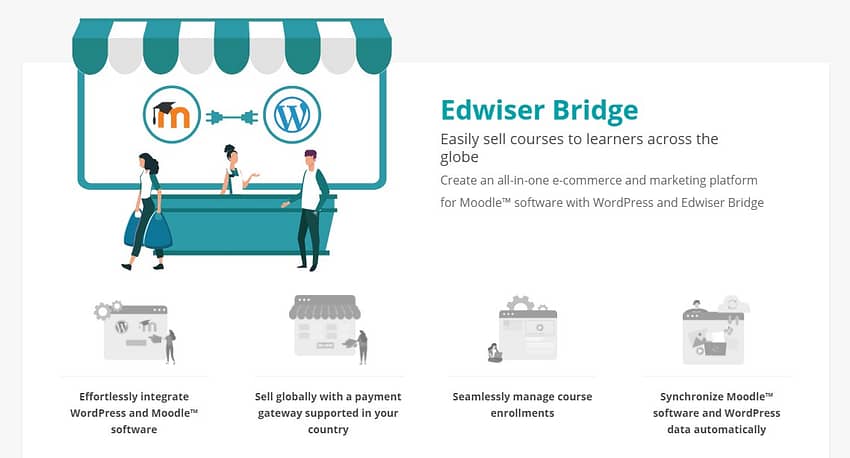 Next, you need to install and configure a Moodle plugin for WordPress like Edwiser Bridge. This plugin allows you to connect your WordPress site to your Moodle courses, so students can access the courses directly from your site. Make sure to follow the plugin's instructions carefully to ensure a seamless integration.
Once the plugin is installed, you can start designing your Moodle course pages. Use a clean and simple layout that's easy to navigate. Include a clear description of the course, its learning objectives, and any prerequisites. You should also provide a preview of the course content to entice potential students.
To make your courses more engaging, you can include multimedia elements like videos, animations, and interactive quizzes with Articulate or other of course. These can be easily added to Moodle using the various activity and resource modules available.
To sell your courses, you can use a plugin like WooCommerce to handle payments and enrollments. WooCommerce integrates seamlessly with WordPress and offers a variety of payment options, including PayPal and credit card payments. You can also set up discounts and promotions to attract more students.
Another important aspect of your Moodle platform is communication. You need to provide a way for students to communicate with you and with each other. Moodle includes a built-in messaging system, but you can also integrate third-party communication tools like Slack or Discord.
Finally, you need to promote your Moodle courses to attract potential students. Use social media, email marketing, and other digital marketing strategies to reach your target audience. You can also offer free trials or demos to give students a taste of what your courses have to offer.
In conclusion, designing a Moodle platform for selling Moodle courses with WordPress requires careful planning and attention to detail. Choose a suitable theme, install and configure the Moodle plugin, design engaging course pages, handle payments and enrollments with WooCommerce, and promote your courses using various marketing strategies. With the right approach, you can create a successful online learning business and help students achieve their educational goals.